Hello everyone, a belated Happy-2017 to you all!
I've debated whether or not to start my freelance business blog up again, for a number of reasons.
Firstly, I put it on hiatus back in October because we were emigrating to New Zealand (I made it here, incase you didn't know) and I write about that and help my son to vlog about it over on OperationEmigration.com
Secondly, I'm busy writing most days anyway, for work (some of which you can see here on my Contently profile).
That's the easiest type of work for me to do remotely for clients back in the UK/Ireland, given the 13 hour time difference. With PR you need to be communicating during the day GMT. Managing social media accounts also requires some element of real-time customer engagement. But researching and writing I can do anywhere.
However the fact that I'm back working a lot is partly the reason why I couldn't stop myself from typing another blog. Because when things happen in my work life I want to share that learning with others. And though I passed a lot of information on in my blog and my book, one thing I didn't go into detail on was the financial viability of "going freelance" like I did.
Freelance services in industries like ours (PR, Digital Marketing, Social Media) can seem like a no-brainer but it isn't as easy as it appears.
One of the hardest things in business is comparing yourself to others and their apparent success. But I've made no bones about it; I can promote your business because I'm a dab hand at promoting myself.
If I looked wildly successful in my first year, it's because I portrayed it that way.  Nowadays, I don't have to spin it so much 🙂
But I also like to talk about the realities of business and how marketing and PR works to bring you more business. To do that, you need to see the journey.
Seeing as I've just come out unscathed the other side of a tax return and I can see my business growing, I thought I may as well follow in my tradition of saying what others dare not!
Why? For the same reason I usually do - I write things I wish someone else had written for me before I started out on my own. And because it's something I get asked advice on quite a lot.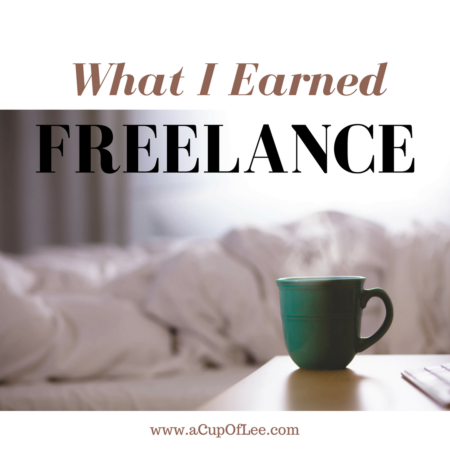 But before I do it there are a few caveats to bear in mind:
I have a son of school age who has special needs - my reason for going freelance was a childcare one and so I only had a maximum of 20 hours per working week available to me for paid work, business development meetings, admin, events, etc.
I didn't prepare (as you should!) for going out on my own. I had to make a choice to leave my job by the end of the week. So I didn't have savings, or the networking preparations done in advance to start off on a good footing. My first year was more of a slow burn than it needs to be!
I specifically didn't want to start my own consultancy or agency (for reasons so long they require their own blog post). That restricted me to not taking on big retainer client contracts and only subcontracting or white licensing work to existing consultants and agencies; i.e. jobs at a lower hourly rate (£25 per hour in my case).
By the time I went out on my own I had a husband and he had a good job. This, you'll find, is quite common in the PR/Marketing industry. I couldn't have afforded to start a freelance business otherwise.
You'll see that by the time the second year rolls around - if you survive freelance in this industry that long - you can actually find what works for you, develop your business enough and create sustainable income streams (with good cash flow) to bring in a decent wage. Considering my work is part-time, with large chunks off, it's really quite a good salary to earn in one's pyjamas!
How Much Do You Earn In Your First Year Freelancing?
Again, throwing caveats everywhere like candy, this is different for everyone, blah blah. I've explained it plenty above (in case you sped-read straight to this part!)
But back in 2015, my total first year earnings were (drumroll optional…)
£4,250
Shocked? You shouldn't be. This is quite common for beginner freelancers like me who are offering small job services. Remember though, I didn't start until June and I took the following February and March off to write a book. Plus you would probably double the total for a full-time worker. OK, it's still not even enough to meet the threshold to pay tax (every cloud…)
BUT it gets better.
In fact, the forecast for year two is that my income has more than tripled - and that's taking 2 months off to emigrate, and 1 tax-year month that still hasn't happened yet (March 2017). 9 months, working 20 hours per week. Now double that (for a person working a 40-hour week)… We're not doing too badly against the old 9-5 job now are we?
So is it worth doing?

Yes.

Just learn from my mistakes…
Contrary to popular belief it isn't just increasing workloads or raising rates that leads to freelance success, rather it includes a mixture of the following:
Find people who pay on time.
Most freelancers have to allow a 30-day payment term on invoices. When people are late, not only does that take up more admin time chasing them (which is money lost if you work for yourself) but it's also a massive cashflow problem when you have outgoings (see below). And it's downright embarrassing, too. I don't know how people live with themselves being late payers on the regular. Don't continue to work for these people.
Nurture good relationships.
As a freelancer in digital and marketing industries it can appear that the majority of work lies in offering cost-effective, bespoke services to small businesses who can't afford agency fees. In reality your good paying, regular work will come from those agencies sub-contracting to you. Make friends and nurture those relationships. It can be a bummer when you can't talk about certain projects but working for small businesses will require much more work and more time (hence I wrote them a book to skip the basics!) Bear this in mind.
There is no doubt about it, the fact that I had been blogging for 2 years, tweeting, LinkedIn posting and networking all made it a million times easier for me to begin freelancing. When I introduced myself to agencies asking to be put on their roster of contractors, they already knew who I was and it undoubtedly encouraged them that I had tried to prove in public that I knew my apples from my oranges. Put yourself out there and do it early, don't wait until you need to build your profile for your own business.
Be busy with the right things.
I see a lot of freelancers on social media who appear to spend their days at every networking event going. Then,they spend all night on Twitter chats. With the same faces at every meet-up. In fairness you have periods of dead time, especially in the beginning, and you want to be productive with it. But you've got to be clever with how you fill your time. Look beyond the obvious. Some of the most worthwhile things I did for my business in year one aren't the standard "get-together." Things like school mentoring with Young Enterprise NI or taking part in a podcast were both worthwhile projects which, despite being unpaid, brought good work enquiries the following year.
How Much Does It Cost To Freelance?
In a nutshell, I didn't make much profit my first year. Like many people don't. That's because when you weigh your income against your investment, it's an unfair weighting. Obviously initial set up costs can be high. These I couldn't get away from because I didn't even own my own laptop to work from. Or a printer!
But there are lessons to be learned here. And I want to pass them on. My costs in year two are less and they're focussed on the right things.
Looking back, I made it harder for myself by spending too much - in some cases - on the wrong things, like:
CPD: £1,169.33 (to be exact)
That's a quarter of my earnings. A mixture of memberships to CIPR, CIM, Women in Business and courses. Now this will raise eyebrows. The fact is I was very dedicated to CPD as an in-house employee. I got a lot out of my time with CIPR especially volunteering on the committee. However, do I think it benefits freelancers? Did letters after my name or award nominations win me business or make me a better professional when it came to basic work like writing a blog article? No. It's also too expensive for freelancers. And don't get me started on the Digital Diploma. Instead, in year two, I paid for bespoke 1-1 training on things like Adwords.
Meetings: £154.48
That's coffees, lunches, a lot of car parking. It doesn't include £300 of mileage getting everywhere either (I couldn't rely on public transport as I'd school runs to do). Two of these meetings resulted in paid work. TWO. You learn as you go to differentiate between the people who genuinely want to help or want to work with you and those who just want to pick your brain. And those people should pay for the coffees!
However, one thing I wouldn't change is the money I spent on:
Marketing: £218.20
(Go figure, shocking comment from a marketer!) But honestly, I initially laid out for a logo, new website hosting, business cards and handwritten postcards/gifts sent to the top agencies/consultants in Northern Ireland basically asking if they had any work going. My first five paid jobs resulted in the following months. Three of those agencies continually hired me over the course of the year. The good ol' PR Desk Drop really was worth it's weight in copper pennies!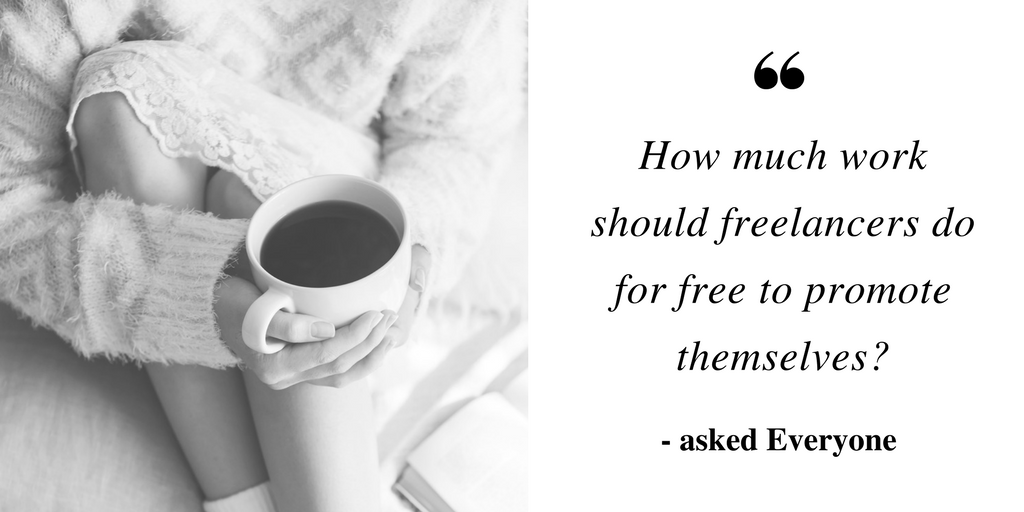 How Much Work Do You Do For Free To Promote Yourself?
This is the big question.
And I don't know if I have the right answer. Some people refuse all, on principle. Some people do loads and lie about it. Some, like me, take it on a case-by-case basis.
I wasn't paid for any of my speaking gigs. And I did quite a few (albeit in my second year freelancing, not my first). They do take a lot of preparation time, plus the day out to do them. But they led to follow-up work enquiries for me and that was how I judged the time investment.  And basically I like it, the same way I like guest lecturing, it's a personal preference and if they would pay me, I'd do nothing else quite frankly!
There are other forms of "work" I did for free though, that also helped my business development by improving my online profile. Basically, my own Digital PR as an entrepreneur.
Things like writing guest articles for backlinks or being interviewed which I then promoted on social media.
And of course, writing the book. It took two months of my work time to write and publish, then I invested money in launching and marketing it. It has earned more for me in terms of work and profile than it ever could in book sales (although they help too!) I highly recommend producing a small eBook to promote your services, even if you give it away for free in exchange for emails or similar.
Things that don't work for me in terms of business development are websites like Upwork. I have a profile. And I have been approached to send proposals for jobs. But their hourly rates are often so low (some now that I'm in NZ are maximum $10 an hour. That's dollars!) For this industry - content in particular - it's a race to the bottom…
However, if I was desperate to build up a portfolio I might consider it. Although, I'd probably offer my services to a local charity for free first.
Will You Continue To Freelance And Why?
Yes.
I enjoy writing and digital/social media and if I can continue to be paid to do it then I will. I'm lucky that there are still jobs I can do for my old contacts remotely over the time zones and many thousands of miles (God Bless Skype). I'm also working on a project for a new Irish startup who contacted me through the blog, as well as doing two proposals for a new consultant in Belfast.
But my long-term plans are different now. Being away from the profile I built up in Ireland hasn't affected my work the way I thought it would. I'm pleasantly surprised at how receptive people here in New Zealand have been to me as a stranger (I've actually been offered 2 jobs in the last 3 weeks!)
However what I didn't expect was to miss the elements of my work that I couldn't continue to do remotely - training, lecturing, guest speaking. Perhaps that's a wake up call to me to take this opportunity of a fresh start and begin to make a more structured, long-term plan about what I really want to do with my life.
Ultimately, I 'fell into' freelancing. But I made it work.

And ultimately, I hope that this blog post - long as it was - gives you confidence that you can, too!

If you enjoyed this blog, and want to see more, do let me know 🙂
And if you want to hire me from anywhere in the world while I'm still freelancing, or indeed offer me some of the work I love here in New Zealand, well I'll just leave this here… aCupOfLee [at] gmail dot com