Not when it comes to the CIPR PRide Awards. In that case, PRide normally comes before a large alcoholic beverage and some questionable moves on the dance floor! I wasn't able to attend Friday night's annual excellence awards in the end due to babysitter commitments but given my blog theme and my place on the local CIPR Committee, I couldn't not talk about it.
The Good
I won't claim to know all the winning individuals, teams or campaigns inside-out but there were a few highlights for me as an onlooker:
In-housers - SO PROUD of the in-house teams who rocked with the best of the super talented agency folk this year. Kudos to Rachel Burgoyne (who I interviewed last month on the blog) and her team at Cancer Fund for Children for their SILVER award in the Not-for-Profit category. Belfast City Council did brilliantly too being awarded GOLD for Best Use of Digital for their coverage of this year's election; GOLD for their inner-city recycling scheme campaign, and GOLD for Best Use of Photography/Design for the Belfast Zoo campaign. Sue Corbett from the team will also be appearing in my Local Profiles interview section very soon!
Charidees - Alongside NICFC, other voluntary sector organisations made us proud with their wins such as Include Youth (SILVER in Public Affairs Campaign for "Blow Your Socks Off") and Barnardo's NI (GOLD in the Low Budget Campaign). Hopefully the increase in entries from this sector only continues to grow.
Ulster Rugby - OK, I'm biased. I'm a fan and my man-friend plays BUT that doesn't detract from the fact that UR were wholly deserving of their awards, including GOLD for Outstanding In-House PR Team and Best External Publication as well as SILVER awards in Best Use of Digital and Photography. I won't claim psychic abilities but I did practically foresee this after my interview with Manager Neil Brittain back in September!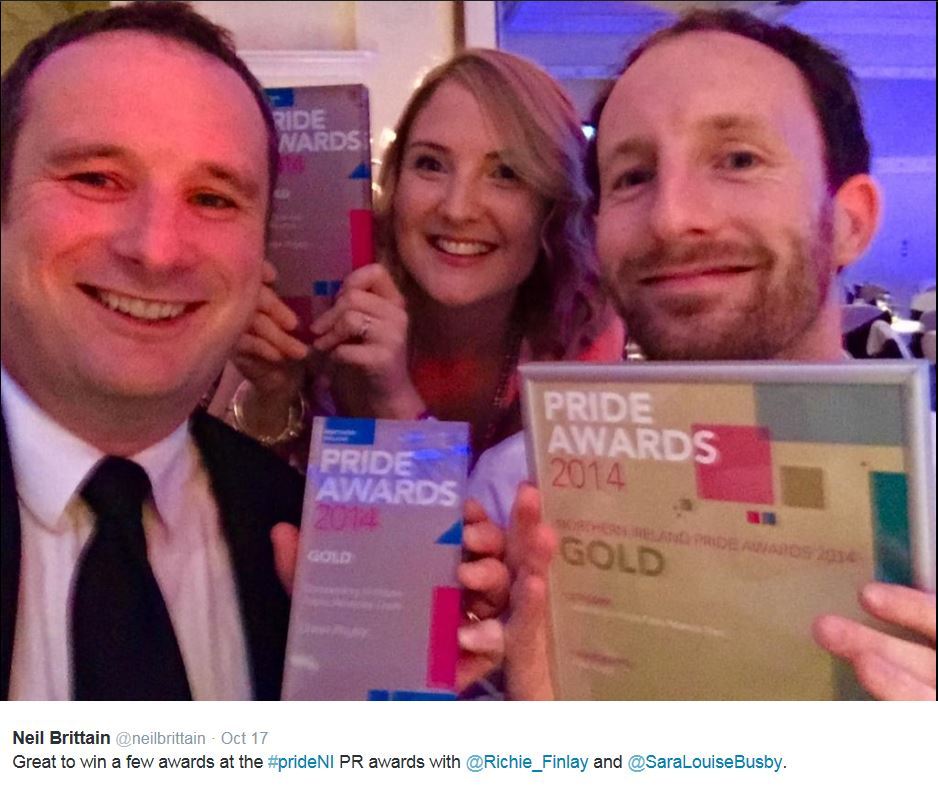 I also can't go without congratulating our Northern Ireland Committee Chair Chris Love for winning Outstanding Freelance Practitioner, with the fabulous Samantha Livingstone a close runner-up.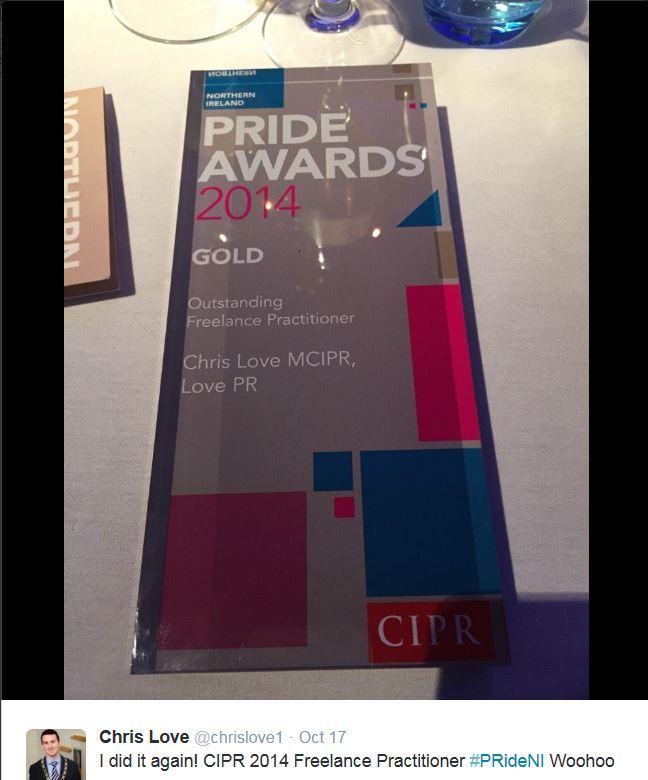 The Bad
Just because I'm a huge advocate of the CIPR doesn't mean I will ignore the negatives. I've been vocal about them before. I'm happy to say I felt really proud of the mix of entrants this year and was more "proud" than ever to work in an industry alongside some of the talent that was on offer. As open as I am to positive critique, I think this tweet was a bit beyond the realms of possibility, given the PR people I know (and I've met a good few), most of whom are too overworked and naturally buzzing on busy-ness to go anywhere near narcotics! Granted, we do like a selfie. But I for one am certainly lacking in the teeth and tits department.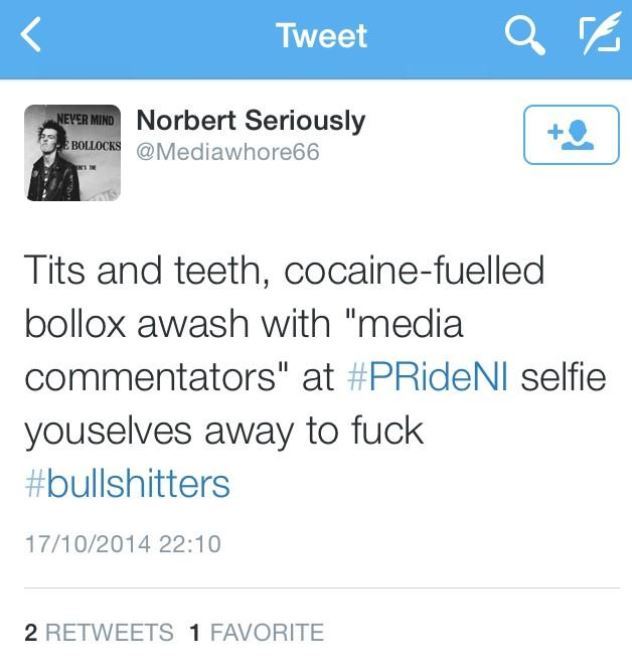 The Ugly
Thankfully I can't comment on this as the tweets and selfies cleverly stopped when folk hit the dance floor ;)
I hope everyone enjoyed another great night for local PR and Communications. The full list of winners and very useful GOLD case studies can be found on the CIPR website here. I intend to be back in 2015 when normal service resumes!