Award season is upon us. You either love it or loathe it. The CIPR's PRide Awards are the industry standard for PR and Communications work across the UK and I thought I'd ponder the recently-released shortlist. I can do that because I'm not entered this year - we spent the last 12 months going back to basics on websites, marketing literature and community event awareness raising - and I also don't judge them because Northern Ireland's entries are sent to another region for deliberation.
Last year, I attended the awards which were both glitzy fun and beneficial in networking terms. We were nominated then and it was a huge priviledge to be among seasoned PRo's. The certificate still takes "PRide of place" on our window sill (puntastic!) I blogged then about both the pros and cons as I saw them with such award structures. Since then, much has changed. I got off the side-lines and joined the regional committee and am now working more closely with Comms Professionals in the Voluntary and Community Sector (VCS) to see how they can better avail of the training and standards afforded by the Institute as well as encouraging them to enter their work for recognition. So much in this sector is done with little resources and makes just as big an impact as commercial campaigns.
Thankfully this year's PRide shortlist was a delight - bigger numbers yet again from the VCS! As highlighted in my esteemed colleague Elizabeth's tweet:
Some great stuff highlighted here that you had to work to avoid seeing this year, including the rebrand launch of Leukaemia and Lymphoma NI with the talented folk at MCE Public Relations and my good friends at Include Youth, whose #BlowYourSocksOff campaign and subsequent positive media stories highlighting young people with a desire to get into work was seriously good (and I'm not just saying that because they're my chums!)
Other work outside the VCS that I'm really pleased to see making the shortlist include JPR's launch of the Firefly Upsee in Best Healthcare Campaign which was a massive success (and for which they've already won an IRPA Gold Award this year, deservedly so).
I also think Clearbox Communications' work on relaunching the Malone Lodge hotel with their blogger pyjama party should do pretty well in the Best Use of Social Media category - not least because I highlighted the effectiveness of it right here way back, before it was cool to know these things! They also kindly offered me to to write for their weekly roundup blog which is a great read if you don't already follow it.
Ulster Rugby are also shortlisted in four categories in total (I think) including Best Use of Digital. I've been pretty impressed with how their communications is progressing, really engaging fans of all ages, genders and interests and increasing their use of video. So it's fitting that the whole team is shortlisted for Outstanding In-House PR Team.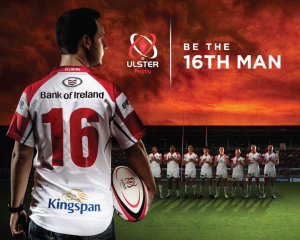 I couldn't finish without a shout out to my committee colleagues Samantha Livingstone and Chris Love who are up for Outstanding Freelance Practitioner, as well as the lovely Jane Williams of JPR who is among the candidates for Outstanding Young Communicator.
I could go on, but needless to say I'm impressed and proud of the calibre on the local shortlist and I wish them all the best of luck. Fly the flag for Northern Ireland PR and Communications folks!