As part of my daily research for the blog I recently set up Google Alerts so that I could get industry news delivered straight to my email inbox. Preferably news I wasn't finding through my social media channels.
So I was surprised (stroke-entertained) to find this "PR" article arrive in my inbox over the weekend: "Inside the home of public relations guru Lynn Hunter." Homes and Living type magazines are not something I would ever choose to read unless stuck in a GP waiting room avoiding airborne germs. It's not that I'm not interested in interiors. In fact art and design is my second love after writing.
However, I don't currently own my own home and I share the sarcastic view of the folk behind the Unhappy Hipster Tumbler blog, who humorously deride such content for taking itself too seriously.
But seeing it's the local "Twelfth" Bank Holiday and there isn't much PR news around, because no one in their right mind would release so much as a press release in the last 5 days, I thought I'd be a little playful on the blog and have a go at my own "Through the Keyhole" style article. Enjoy…
Inside the home of public relations guru Leanne Reilly
Tucked away in (the only) leafy suburb of up-and-coming West Belfast, nowadays snobbishly referred to as "Stockman's/Kennedy Way" lies a hidden gem development of modern family townhouses. Lovingly crafted from highly expensive sand-coloured brick at the height of the economic boom and now worth diddly-squat, this spacious three storey family abode is home to Leanne Reilly, where she resides with her parents (the actual owners) and her son;
I was renting a slick little apartment on the Lisburn Road for a few years. The postcode was a mere one-digit short of Malone Road. It increased my sense of self worth and lowered my car insurance. But unfortunately Belfast rentals are outside the reach of single working parents who would like to eat as well as have a roof over their heads, so we moved home.
The ground floor has an open plan feel with simple, pared-back neutral decor, distinctly lacking in character but trend setting in the early "naughties" when the house was built. The return of a 5 year old soon added an eclectic edge to the interiors, epitomised by the living room door which he has creatively découpaged with a variety of stickers, adding a pop of colour to the otherwise serene narrative of the room;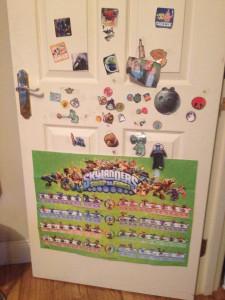 If there's one thing that will stop you taking yourself and your "stuff" so seriously, it's owning a small person. There are more important things in life.
The rest of the property continues the eclectic and playful feel - a mélange of styles and eras, among a fresh simple palette adorned with the various stains of raising a family. The first thing you notice is the abundance of light flooding in from the oversized arch windows, a key feature of the house. This negates the need for decorative lighting, yet Leanne's 1960s fluffy lamp takes pride of place on the first landing;
We really don't need it, but it remains the only funky piece of furniture I own so I can't part with it. Of course it does come in handy when the windows start to get a bit manky, given the window cleaners cover their fear of heights under the ruse that "their ladder doesn't go up that far."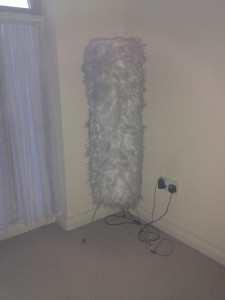 Having inherited her younger brother's old room, Leanne has yet to make much of a mark on the decor, but tasteful little accents of her personality are dotted around, including her sci-fi novels and childhood comforts.
Nestled above a floor of bedrooms is yet another floor of family space featuring the perfect room for a study/home office in the nook of the sloping roof. Leanne had big plans for an Ikea-filled sanctuary however the room now boasts a unique blend of subtle nursery tones with splashes of colour in abundant storage units;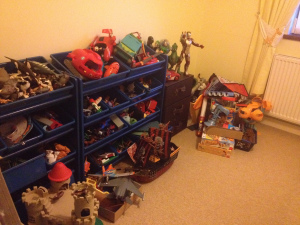 This room was decorated enthusiastically, as many people do, in the throws of pregnancy, with cute animals everywhere and a palette of white and yellow (despite my seeing the penis on the scan, you can never be too sure). However, the reality as most people find, is that your little angel will never sleep anywhere as well as they do in your bed and so this room now serves as extra Warehouse space for Smyths Toy Superstore.
To relax and unwind after a hard day in Public Relations, Leanne enjoys the simple pelasures of the house including the large bath, where she is accompanied by Mother Duck, her baby ducks and Captain Jack Sparrow.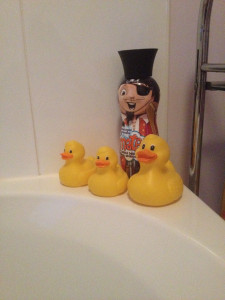 Without a dedicated office space, Leanne can be found on the laptop at the kitchen table, researching, writing and wasting time on Twitter. Here she is seated beside the family fish tank, salvaged and cleverly upcycled with a backdrop of the ocean purchased on a trip to Belfast Zoo;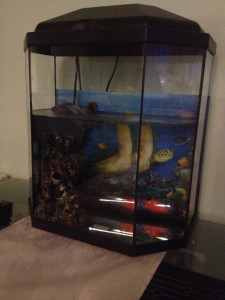 I like to work beside the fish tank. It houses some tiny species. But don't be fooled, these are hardline fish, considering they've outlived all the others (Rest In Peace). I find the gentle sounds of the bubble machine soothing. I also read somewhere that fish boost creativity. When suffering writer's block you'll try anything.
So there you go, we're not all Hipsters with mismatching Scandanavian furniture and upcycled whats-its. Some of us work in the fluffy world among the Prosecco set and come home to the real world and sticky hands.
Keeps you grounded!